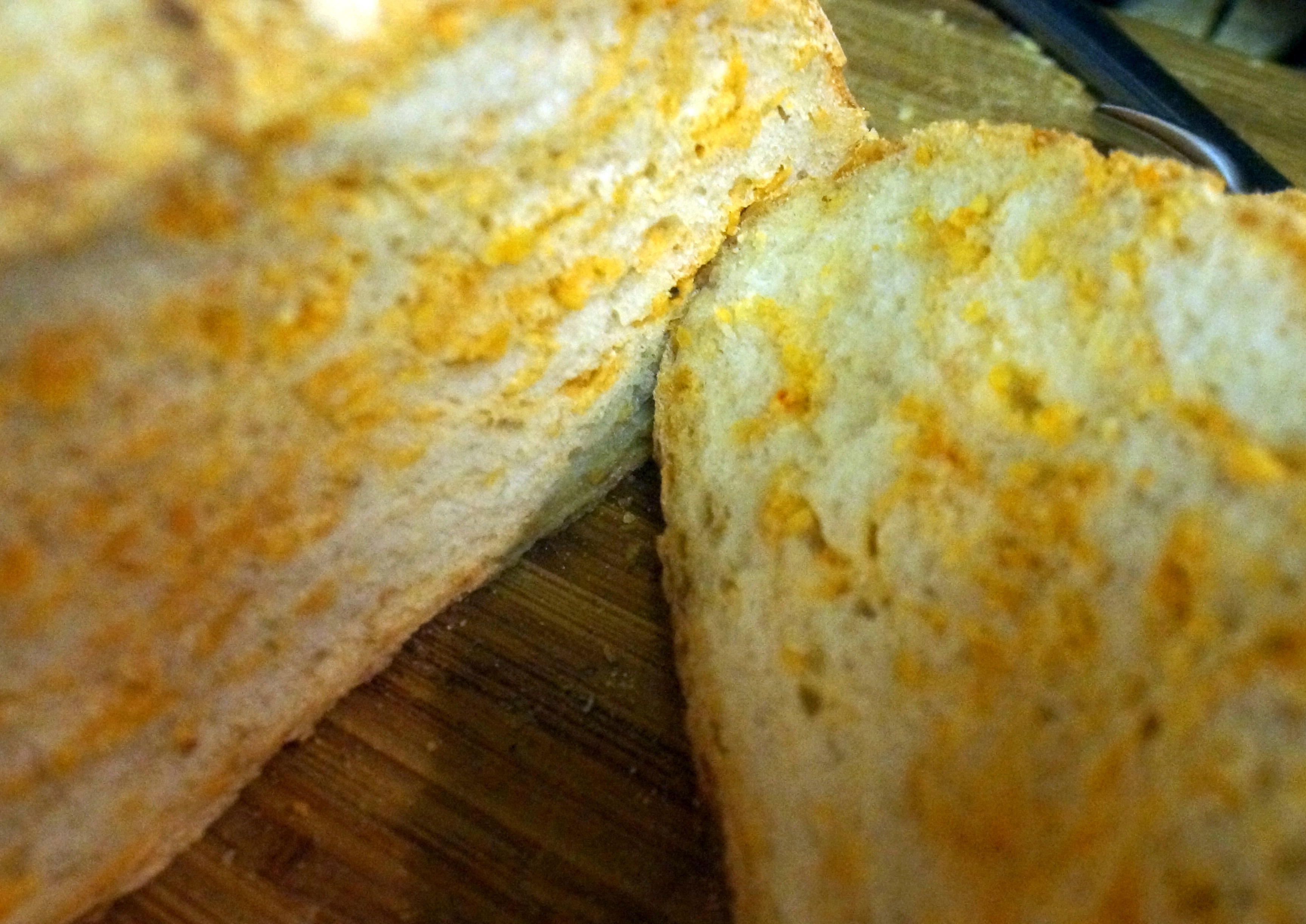 Recently, the internet has been buzzing about bread baked with Doritos. This can be chalked up to the curious juxtaposition of artesian bread and mass-produced snack. We expect breads made at home to be lovingly made and made with only the choicest of ingredients, unsullied by preservatives, excess salt, and processed ingredients. So why would anybody want to spoil all of that by adding the food that has surpassed the Twinkie as the poster child of unnatural food stuffs?
Jump to the recipe if you want.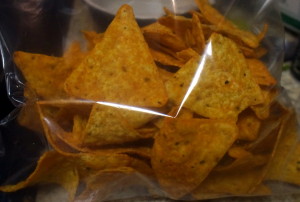 The simple answer seems to be "Because I can." That's the real power in cooking, sometimes you can throw a cup of crushed cheesy chips into hand-made dough and get something new or interesting.
I don't consider myself a bread maker. It's not my zen. I bake things but I would never become a baker. When I saw how hand-made and how artesanial the Doritos recipe was, I decided that there had to be another way. I dusted off the only bread recipe that I make routinely and decided to take a bag of Doritos on a date with destiny. The end result is both tasty and good to look at, and the road to get there is my usual level of easy.
Ultimately, I think that the no-knead bread recipe is as good a spiritual match for Doritos and everyone should have this chance to bring a little bit of class into their life. The no-knead recipe was published in the New York Times a few years ago and has been a staple in my kitchen ever since. It trades time for effort and delivers an impressive loaf with a minimum of work.
I started this recipe like any other loaf of no-knead bread, with 3 cups of King Arthur Bread Flour, but all purpose works ok too, a packet of yeast, a tablespoon of salt, and 1.5 cups of water.
Combine with your hands and combine in an oiled bowl. Cover the bowl with foil or cling wrap and leave it overnight. I keep them on top of the fridge because all sorts of interesting little critters seem to pop-up there. Seriously, take a slice of bread, wipe the top of your fridge with it, and leave the bread for a week. You're going to want to make sure that your dough bowl is tightly covered in order to make sure that your little yeasties are the only critters at work.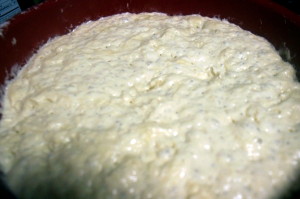 The next day, 3 hours prior to serving the bread, place Doritos in a ziplock bag and crush with a heavy pot or pulverize in a food processor. Sprinkle the Dorito crumbs over the dough and fold to incorporate. Roll dough into a ball. Sprinkle a tea towel with flour or corn meal and loosly wrap the ball in the towel.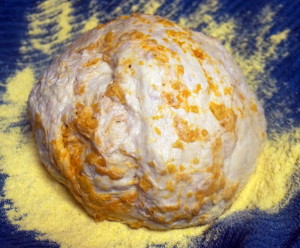 One and a half hours before serving, preheat the oven to 450ºF with a cast iron dutch oven or covered enameled cast iron cooking pot in it. You want the vessel to get good and hot.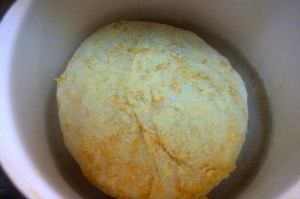 An hour before serving, toss the ball into the pot and cook covered for 30 minutes.Remove the cover and cook for another 15. When the bread is nicely browned and knocks like a hollow drum when tapped, it is done. Pull it out and let it cool on a cooking rack for 15 minutes. Bonus points if you sit and listen to it sing during that time.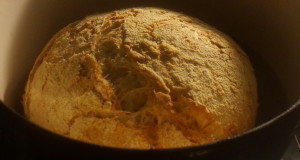 Recipe:
 3 cups bread or all purpose flour
 1.5 cups water
 1 packet instant yeast
 1 tablespoon salt
 1.5 cups crushed Dorito crumbs
 Cornmeal for dusting
In a greased bowl, combine the flour, water, yeast, and salt with your hands. Cover and let sit for 15 hours.
Use your hands to fold the crumbs into the dough, roll into a ball. Dust a tea towel with cornmeal and cover the dough ball for 2 hours.
Place an enameled cast iron pot or dutch oven into the oven. Preheat to 450ºF.
Transfer dough ball to pot and cook covered for 30 minutes.
Uncover and cook for another 15-25 minutes until the bread sounds hollow when thumped or has reached an internal temperature of 200-210ºF. Let cool on a cooling rack for at least 15 minutes.